This article applies to:
MailMarshal/SEG Cloud
Provisioning from the Fusion portal
Question:
How do I enter the TXT record required to provision SEG/MailMarshal Cloud?
Verify Domain required by setup steps in Fusion Portal
Procedure:
This article explains how to add a DNS TXT record required for self-service setup of your MailMarshal Cloud account.
You will have logged in to the Trustwave Fusion portal and added a domain. You are now at the step shown in the image below: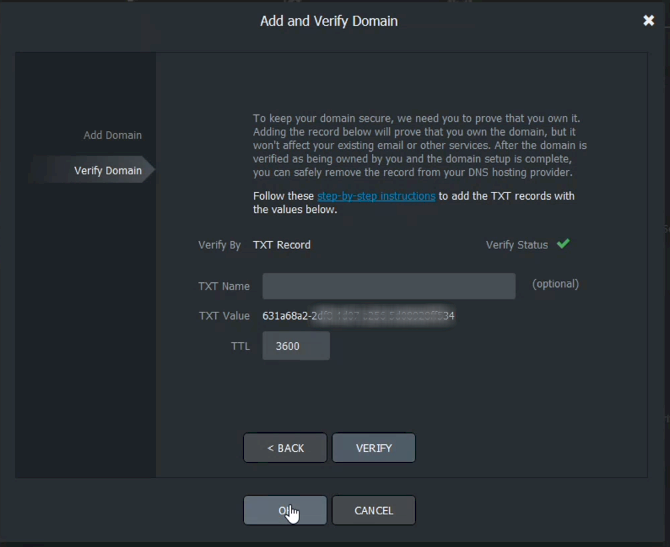 In a new browser tab or window, sign in to your DNS hosting provider, and then find where you manage your DNS settings (it could be called Zone File Settings, Manage Domains, Domain Manager, DNS Manager).
Go to the DNS Manager page, and add a TXT record with the information provided in Fusion. Adding this record won't affect your existing email or other services. For example:

TXT Name: Copy the value from Fusion. (Can be blank or any name to identify it for you)
TXT Value: Copy the value from Fusion.

This value is unique for each domain

. The example in the image above starts with

631a6a82-

but yours will be different.
TTL: 3600 (or your provider default)

Save the record, go back to the Fusion portal, and then select Verify. It could take 15 minutes or longer for the information to be available to verify. Be patient and try a few times.
Once the information is verified the Verify Status shows a green check. You can click OK on the Fusion portal to continue.

After this you can also remove the TXT record from your DNS, any time it is convenient. 
Trustwave MailMarshal Cloud KB article Q21166
Last Modified: August 19, 2021